All the tips for a makeup that does not run even in summer
Hot temperatures don't mix well with makeup, which tends to run off, especially on the eyes. But good news, there are several tips to fix it!
Between the hot weather, the sea or the pool, summer is not the best season to keep your makeup flawless. Between the sweat and the skin which tends to grease faster, especially on the eyelids, the make-up is severely tested. Very often, mascara, eyeliner or even eyeshadows run off and we end up with panda eyes. If we like these ursidae a lot, looking like them is far from glamorous! Fortunately, there are plenty of tips to keep your makeup from spilling. Here are all our tips for a make-up that will stay in place all day long.
We apply a base
As with the complexion, there are fixing and smoothing bases specially designed for the eyelids. Usually in gel or cream, they are essential for a more radiant makeup, which will hold throughout the day without moving. The base, also called a "primer" acts as a protective barrier that limits excess sebum and makes makeup less sensitive to water or sweat. The product unifies and smoothes the eyelids, while allowing to bring out the eye shadow pigments. A thin layer is then applied to clean eyelids before applying makeup.
If you don't have an eye shadow on hand, you can replace it with a little concealer as long as you use powder eyeshadow. If you prefer creamier textures, apply a translucent powder first to absorb oil and sweat. You can then use your favorite make-up to enhance your eyes.
We powder!
Powdered textures tend to stay on the skin much longer than creamy textures. If you are using cream eyeshadows, it is essential to powder it so that it does not run. You can use a translucent powder or dab on a powder eyeshadow of the same color as the cream one. This will intensify the shade even more for a vibrant look! If you wear pencil, you can also powder it with a bit of eye shadow of a similar shade using an angled brush.
We proceed in the same way for the concealer under the eyes. Using a small brush, you can apply a little translucent loose or mattifying powder or the color of your skin tone. Makeup will last much longer, even if the temperature rises.
We use the minimum amount of makeup
When it comes to makeup, we remember that "less is more". Indeed, it is preferable to apply less product for a more beautiful result but especially longer. We therefore apply the makeup in light layers for a more natural finish that will stay in place. With less product, the skin will have tendency to lubricate less, especially on the eyelids. Thus, the make-up will not run, especially the mascara !
The secret of a beautiful make-up is also the blending in order to melt the make-up well into the skin and create a nice natural transition whether it is in terms of complexion or eye shadow.
We also avoid adding several layers throughout the day! You can clean or refresh your makeup with a tissue and just apply a little translucent powder.
We swap our pencil for a fixing gel
Who says summer or hot environment does not mean that you forget your eyebrows. To fill its line, we forget the pencil which could disappear with perspiration. We use a powder or an eye shadow, followed by a tinted wax or a colored or translucent fixing gel as our Browshape transparent fixing gel. To make sure your eyebrows stay perfectly defined from morning to night, you can add a little powder. We still keep a light hand to avoid using too much product and overloading the eyebrows.
We superimpose the eyeliner lines
Eyeliner is one of the most prone to leakage or breakage, but there are a few things you can do to avoid this inconvenience. Applying an eyeshadow primer and / or a translucent powder will lengthen its hold. You can also layer the eyeliner lines. We start by applying a pencil and then draw a new line over it with his liquid eyeliner. We wait for it to dry before repeating the operation. You can also powder over it with a little black eyeshadow that you apply with an angled brush.
We spray fixing spray
The fixing spray is an essential product, especially in hot weather. It fixes make-up for the whole day whether it is on the level of the complexion but also on the eyes and eyebrows. Plus, it can help create make-up formulas that last longer. You can mix some setting spray with your concealer or creamy-textured eye shadow before using it. They will thus last longer, without migrating. For best results, it is best to apply the products with your fingers.
If you don't have a fixing spray, definitely don't use hairspray. This technique is often recommended but it is very bad for the skin. In addition, it is preferable not to use this type of product near the eyes. We turn instead to powder!
We avoid touching his eyes!
We do not touch his face or his eyes! This may seem like a trivial act, and yet it is one of the reasons makeup migrates or doesn't last. The more you touch your face and rub your eyes, the more likely you are to ruin your makeup. It would be a shame, especially if you spent time in the bathroom to achieve a perfect beauty look. In addition, by rubbing your eyes, you could weaken or even break your eyelashes. So keep your hands away from your face!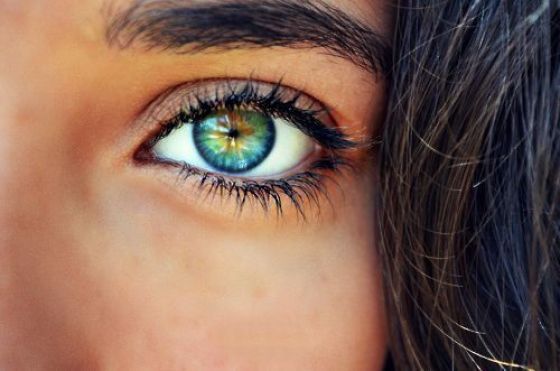 How to refresh your makeup in summer?
On hot summer days, it is best not to apply too heavy makeup. But how do you refresh your make-up to display a sunny beauty look? All our advice! Spring gave us the opportunity to light up our make...
Read more
Is waterproof make-up a good idea?
In hot weather, waterproof cosmetics seem to be the most attractive long-lasting make-up option because it resists sweat and swimming pool or sea water. But is that really a good idea? answer! In ...
Read more