Stuck for gift ideas ? Discover our selection for sure to please!
Finding the perfect gift to treat Christmas is not always easy. The Eyebrow Workshop will then help you stock up on ideas so that you can slip the ideal present under the tree.
At Christmas, we all hope to give and receive THE original and exceptional gift that will make an impression. However, it's not always easy to find inspiration or hit the nail on the head. But this year, Atelier du Sourcil has decided to give you a little help to make your shopping a success. We have selected several products that are sure to cause a sensation when opening the gifts at the foot of the tree. Stock up on ideas for a magical Christmas!
An interior fragrance for fans of well-being
Perfume is a Christmas staple, but have you thought about giving a home fragrance? This is more original and will be perfect for fans of well-being but also of decoration. L'Atelier Water presents fresh, soft and delicate notes to create a warm and serene atmosphere that we find in our institutes. The perfume completes the decoration, it is the icing on the cake for create an atmosphere in which you feel good. Scent is often overlooked in interiors and yet it is linked to our emotions and feelings. Scents trigger emotional reactions and affect a person's mood. Thus, a smell that you appreciate will improve the feeling of well-being when you are at home.
The essentials of the beauty of the eyes for fans of makeup
Make-up is obviously a safe bet! This year, we are looking in particular to our microblading felt Browline which will appeal to beautystas, especially those in a hurry. Indeed, this novelty allows to draw perfectly defined eyebrows and that, in no time thanks to its applicator in the shape of "micro-fork". The result is natural and similar to microblading without the commitment that permanent makeup requires. We also recommend you our mascara Volumacils + Volume and Definition which lengthens the lashes and gives them considerably more volume for a fringe of lashes to fall. The gaze will be intensified for a beauty look at the height of glamor. We do not forget the duo eyebrow pencil Luminabrow which acts like a highlighter to sublimate the shape of its line in a single gesture. It's the little detail that makes all the difference. In addition, this pencil is a kind of all-in-one that also illuminates the eyelids for a very soft and natural look. This is sure to have an effect!
A makeup bag for travel fans
Giving make-up is good, but giving away all your products is even better! A pretty makeup bag is always a good idea. It allows you to bring together your favorite products to always have them nearby whether it is during a shopping day, an impromptu evening or during a trip to the end of the world.
A connected jewel for high-tech fans
How about a piece of jewelry capable of measuring the environment of the person wearing it in order to establish a personalized beauty ritual? The bracelet Twin.C by IEVA, dressed in a silk scarf, is a very pretty accessory to complement any outfit, but not only! Thanks to its 6 sensors, it measures indoor pollution (levels of CO2 and volatile organic compounds), temperature, humidity, UV index, brightness, activity and even noise in real time. Linked to the mobile application IEVA, the bracelet alerts in case of outdoor pollution, pollen or UV peaks. Environmental factors are responsible for premature skin aging. Thus, using the Twin.C it is possible to find the solution adapted to your environment to preserve your skin thanks to a tailor-made beauty routine. Smart!
An illuminating pearly powder for party girls
The new Pearlescent illuminating powder from Atelier du Sourcil is ideal for girls who like to shine! This delicately scented powder envelops you in a pretty satin veil that attracts the light with each of your movements. To be sprayed on the body, it is ideal for sublimating the skin on all occasions. Its little extra is without hesitation its retro bottle in the shape of a pear, resolutely chic, which almost makes it a decorative object that we will like to put in the bathroom.
L'Atelier du Sourcil also offers three beauty boxes and a gift card that will delight all beautystas on Christmas Day.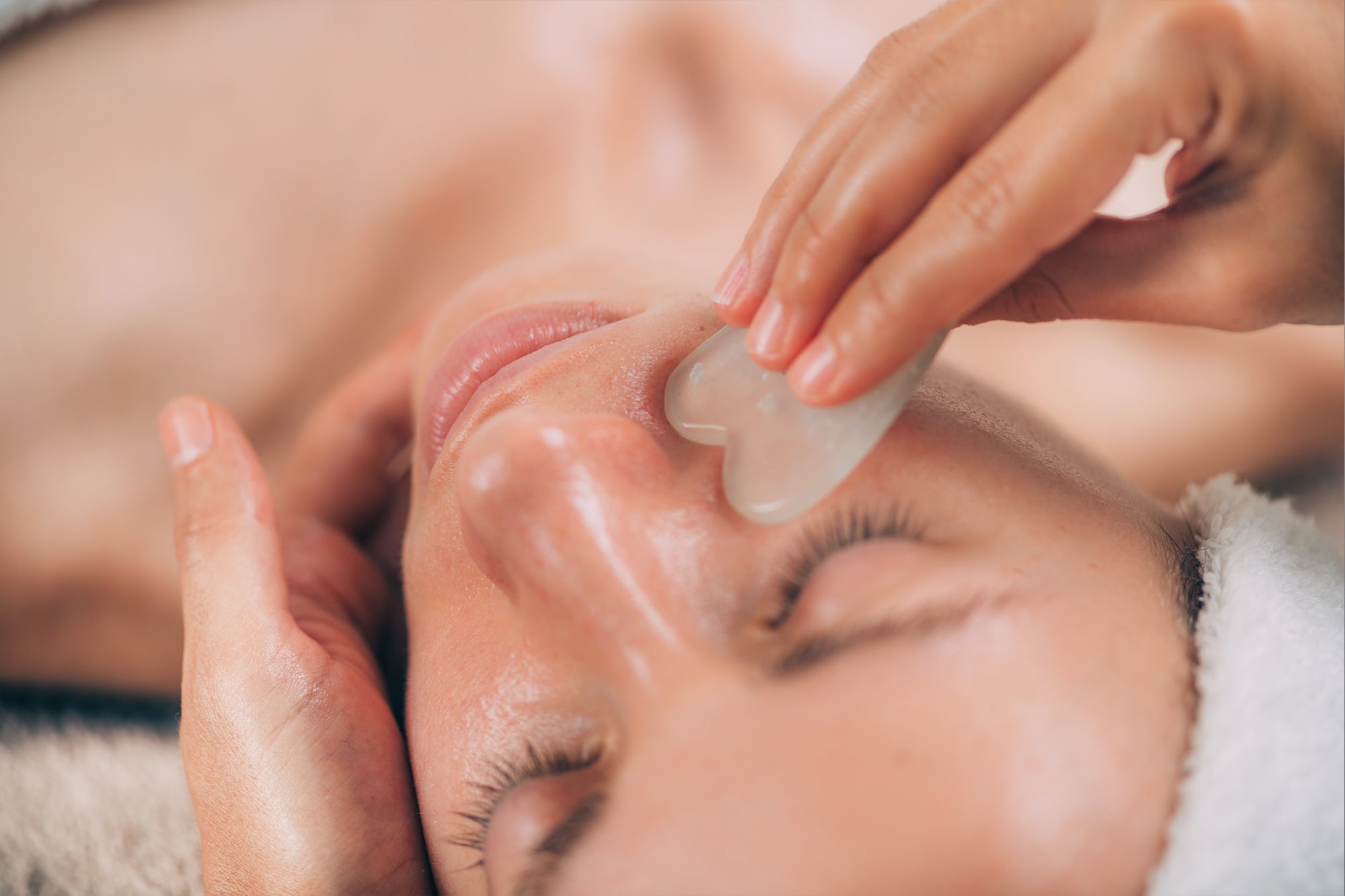 Why is Guasha an ally of beauty?
The ancient Chinese beauty technology "Guasha" aims to detoxify, restore skin luster and prevent signs of aging. This massage is a real added value in her daily beauty care for her face and her eye...
Read more