How do you value your eyes without appearing makeup?
An absolutely devout view of the natural is the dream of everyone. Makeup is a good way to put your eyes and eyebrows in value. But how do we make our make-up invisible? Find all our tips!
If you sometimes like to wear sophisticated makeup for a special evening or event, natural makeup is becoming more and more popular, especially for a day look. In particular, professionals usually say that a successful make-up is an invisible make-up. But then is it really possible to embellish his gaze with the makeup without having the air to be makeup? The answer is yes! However, there are several little tricks to know for a natural make-up of the eyes and successful eyebrows.
Her skin, eyes and eyebrows are shunned.
In order for the makeup to be beautiful and hold throughout the day, it is essential to have a good base. To do this, it takes care of its skin, especially that of the eyes which is very delicate and delicate. It all starts during the makeup stage. It is necessary to disguise its eyes so as not to accelerate the aging of the skin and not damage its eyebrows and eyebrows.
In the morning and/or evening, eye protection is applied to protect the eye and to reduce the hyperpigmentation in the eyes. If the skin on the eyelids and below the eye is well hydrated, it will show fewer signs of dehydration such as wrinkles. The makeup will also be much better and longer.
From the eyes of biche to natural ... or almost
For a successful natural makeup, we begin by correcting the rings with an anti-cernes or light corrector and if possible, moisturizing. It is a liquid or cream texture that melts on the skin and gives a more natural look. The antirings are applied under the eye by forming a form of V that descends towards the cheeks. There is a finger or a slightly wetted sponge.
Powder is avoided as powdered products appear to be much less natural on the skin. If you are afraid that makeup does not hold, use a translucent powder. However, it is better to spray a fixative spray on the whole face after the make-up is finished to resist all day.
We smooth and then unify the eyelids with a make-up base for the eyes or a little anti-cernes. For more natural, we leave the foxes with dark eyelids in the closet. On the contrary, we favour shades of clarity and clarity. Nevertheless, the best thing is to get totally out of the eyelids.
The cilia are then dealt with through the use of a beebrow. A mascara key is then applied. If your cilia are very dark naturally, you can choose without fear for a black mascara, especially if they are sparse. If they are thick, a transparent mascara is also a good option. It can also be replaced with a bit of vaseline or castor oil to give a volume impression. On the other hand, if your cilia are clear, brown is the alternative that will be the most natural.
We are content with a single layer of mascara to avoid any risk of creating packages, which would be far from natural.
We don't forget the eyebrows
Maquiller ses eyebrows is essential to finish in beauty a make-up and sublimer the gaze. They are the ones who give it character. Thus, it is essential to discipline them well for a beautiful line defined. First, the small, disgrated hairs are removed from the tweezers by pulling in the direction of the hair.
If you have thick eyebrows, you can bet only on a transparent fixative gel so that they remain in place all day.
If you have clear or sparse eyebrows, fill them with a little makeup. We start by brushing them up and then give them the desired shape. We prefer to use a pencil, including our Sublimabrow eyebrow pencil. We opt for a shade that is closest to that of her natural hair or her hair. The contour of the eyebrows is drawn without drawing a clear line. We're doing small hatches. When filling the eyebrow, small skewed lines are also drawn to mimic the hairs. The result will be even more natural. Brushing with a small pin and then fixing it with a fixing gel. If possible, it is chosen transparent always with the aim of keeping a make-up very natural. This avoids overloading the eyebrow.
To finish in style, place a touch of highlighter below the eyebrow to illuminate the look. A transparent product or a clear shade is preferred. It can also be applied to the eyelids and the inner corner of the eye to make the eye even more open.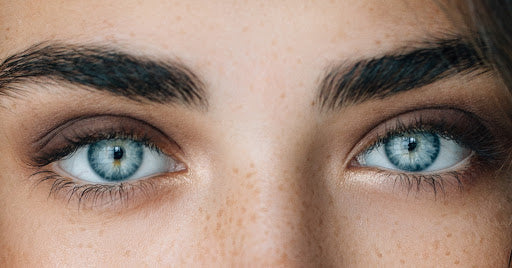 How to make up blue eyes to enhance them?
To bring out all the beauty and radiance of blue eyes, there are a few makeup rules you should know. Here are all our tips for a bewitching look! Blue eyes are particularly beautiful naturally, but...
Read more